Honest & Reliable
Handyman Services
in San Tan Valley
Lugo Handyman Services San Tan Valley can handle all types of projects you may have around the house including furniture assembly, plumbing fixture installation, basic sprinkler system repairs, door strike problems, home finish work, light fixture installs, appliance installation and so much more!
Contact Us
What can Lugo Handyman Services San Tan Valley do for you?
We offer a wide range of home services for every homeowner, from changing lightbulbs to installing a new toilet. Have you been eyeballing that new kitchen sink faucet but you aren't confident you could install it yourself? Let us do it for you!
Furniture Assembly

If we can disassemble and reassemble an Eglu chicken coop and run without instructions we can definitely assemble anything you need
Minor Plumbing and Fixtures

Experience with the installation of bidets, toilets, shower heads, and sink fixtures
Doors

We can fix door strike issues, hang new doors, install new deadbolts and door handles
Finish Work

Light painting, drywall repairs, repair or replacement of floor and door trim
Reliable trusted, and professional Handyman Services San Tan Valley
Lugo Handyman Services San Tan Valley is your one-call solution for a wide range of home maintenance and repair needs. Check out our flat rate pricing on many types of jobs, we do our best to be as up-front with pricing as possible.
Trustworthy and reliable
Happy to purchase materials for you or work with the materials you provide
Up-front pricing
Dedicated to helping you make life easier!
After-hours emergency services
A Little About Rick
Rick's two obsessions are golf and fixing stuff!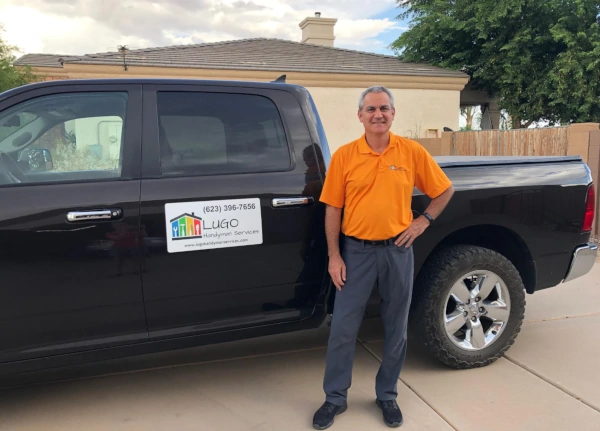 About Rick Lugo's Handy History
Rick started doing construction work back in the 1990s when he discovered he had an inherited knack for fixing and constructing things. He is also great at using tools and understanding complicated systems. He worked for many years for a manufacturing home company doing finish work.
20+ Years of Fixing and Updating
He then went into the corporate world of sales and management up until 2021. All of the time he spent in the corporate world didn't deter him from doing remodeling, helping friends and family with their needs, and keeping his wife's to-do list as small as possible.
Doing Meaningful Work
He's decided to give up the corporate gig and started Lugo Handyman Services San Tan Valley. He genuinely enjoys people and loves to be able to put a smile on a person's face when he's able to serve their needs.
What You Can Expect During Your Home Visit
Honesty
You won't find a more honest and trustworthy person than Rick!
Quality
You'll receive above-and-beyond quality work, with no exceptions.
Respect
He'll make sure the area of your home he worked in is spotless before he leaves.
Experience
Years of experience in all areas of home repairs, finishes, and installations.
Lugo Handyman Services San Tan Valley is happy to offer certain services at a flat rate!
Jobs billed at a flat rate do not include the fixture or other parts and materials.
Install Outlet/Light Switch – Labor Only
Jobs are billed at a flat rate for labor. You supply the outlet or switch.
Flat rate for labor only and regular power outlet.
Install Bidet and GFCI Outlet
Flat rate for labor and GFCI Outlet.
Smoke Detector Installation – Labor Only
Jobs are billed at a flat rate for labor. You supply the smoke detector.
Jobs billed at a flat rate do not include the fixture or other parts and materials.
TV Bracket Installation and Mounting
Jobs are billed at a flat rate for labor. Does not include a TV or mounting brackets. Specific pricing is based on TV size & mounting location, call or request a quote online for detailed pricing.
Bundle and Save!
Check out our frequently asked questions below
If you have any questions not listed here feel free to email us at [email protected]
We understand that sometimes filling out an online form seems like throwing a dart into a black hole! We promise to get back to you within 24 hours!
I prefer to do quotes virtually and can usually be pretty accurate if I have a lot of details and photos to work with. There are times when I feel like I need to come out to see a project in person and it's free of charge.
Lugo Handyman Services San Tan Valley is a registered and insured business. I am not a licensed contractor since that is not a requirement inside of AZ for a Handyman.
I do not do larger structural jobs such as kitchen/bath remodels or anything that requires a permit.
There is a minimum charge of $100 to come out to you for any job which covers my time and other costs. If you hire me to do one job that normally runs $75 but you have no other projects, you'll be charged $100 minimum instead of $75. It definitely helps to bundle up your projects to avoid the minimum.
I serve areas within 30 miles of San Tan Valley including Queen Creek, Mesa, Chandler, Gilbert, Florence, Coolidge, Mesa, Apache Junction, and Gold Canyon.
Yes. Your satisfaction is my goal and I stand by my work. I will guarantee any repairs made for 30 days. If anything goes wrong within 30 days caused by me I will return to make it right free of charge.
I am proud to have all 5.0 reviews across multiple websites including Yelp, Google, and Facebook. You can check out all of my customer reviews here.
I will do my best to help you in an emergency situation in the evenings or on the weekends if something comes up that cannot wait for regular business hours. Pricing for after-hours emergency jobs is subject to a premium but I will give you an estimate in advance of any work.